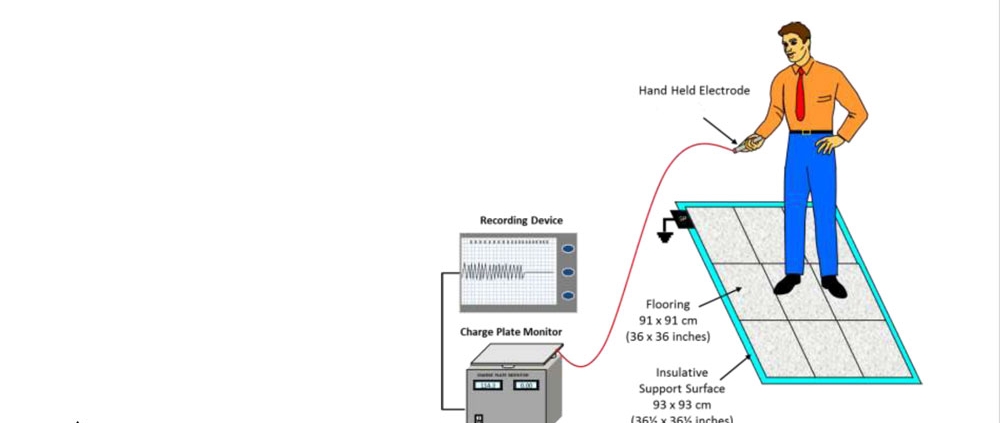 1.This presentation addresses the walking test as described in ANSI/ESD STM 97.2. The use of this test method is required by any ESD control program claiming compliance to ANSI/ESD S20.20 when an ESD floor or ESD floor mat is used as primary ground for personnel. In these situations, the walking test must be performed during the qualification of the footwear flooring system. Testing must be performed for every footwear type used in 2020 compliant ESD program.
A test report, containing the findings, must be available as evidence that qualification testing was performed.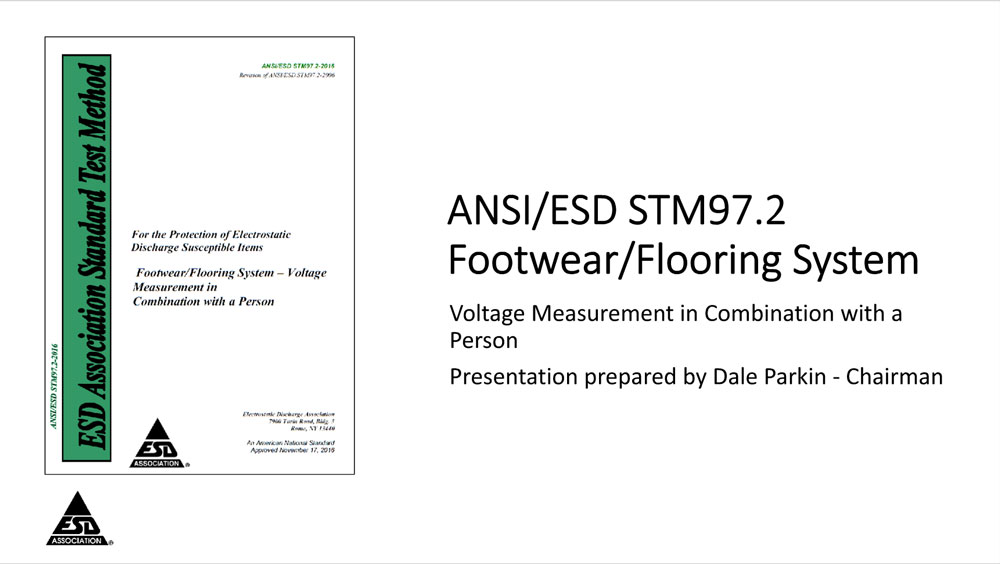 2.For qualification testing, a sample of the intended floor is assembled according to the flooring manufacturer's instructions and the sample is connected to ground. The size of the flooring sample shall be at least 91 cm x 91 cm so that an effective walking pattern can be established.
The test subject is connected to a charged plate monitor and a device that can record the voltage seen by charged plate monitor.
The ESD footwear that will be used with the static control flooring must be used for this test. ESD footwear can be ESD shoes, booties, heelstraps or sole grounders. Whichever type footwear is selected the footwear must be worn on both feet.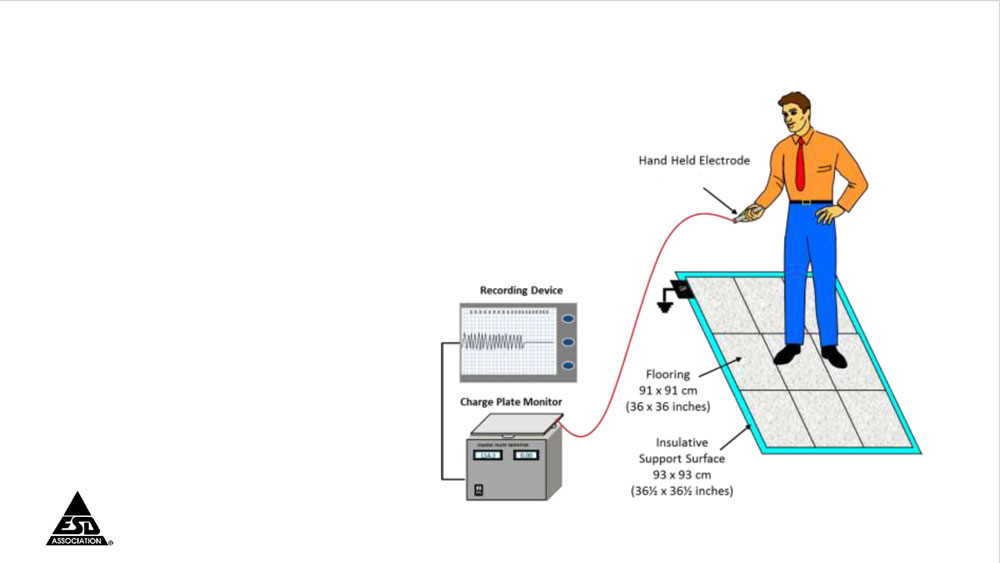 3.ANSI/ESD STM97.2 requires that the test subject walk in a set pattern as shown in this slide. The test subject starts with their feet at positions 5 and 6. Once started the test subject moves without stopping until they return to the starting position. At this point the test subject pauses for at least two seconds before repeating the walking sequence. The walking pattern needs to be repeated a minimum of 10 times according to the test method or until the voltage stabilizes.
It is necessary to have equipment to measure and record the voltage on the person performing the test.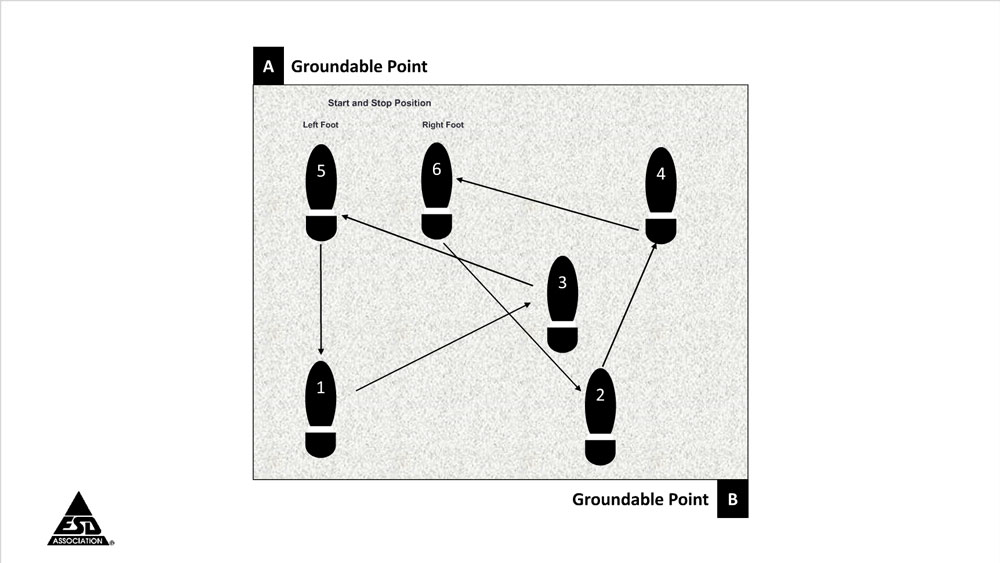 4.The video on this slide demonstrates the walking pattern. As you can see the test subject pauses at the end fo the test cycle as required by the test method.
5.The slide shows an example of a walking test. The peak voltages for this footwear flooring combination are less than 100 volts which meets the requirements of ANSI/ESD S20.20.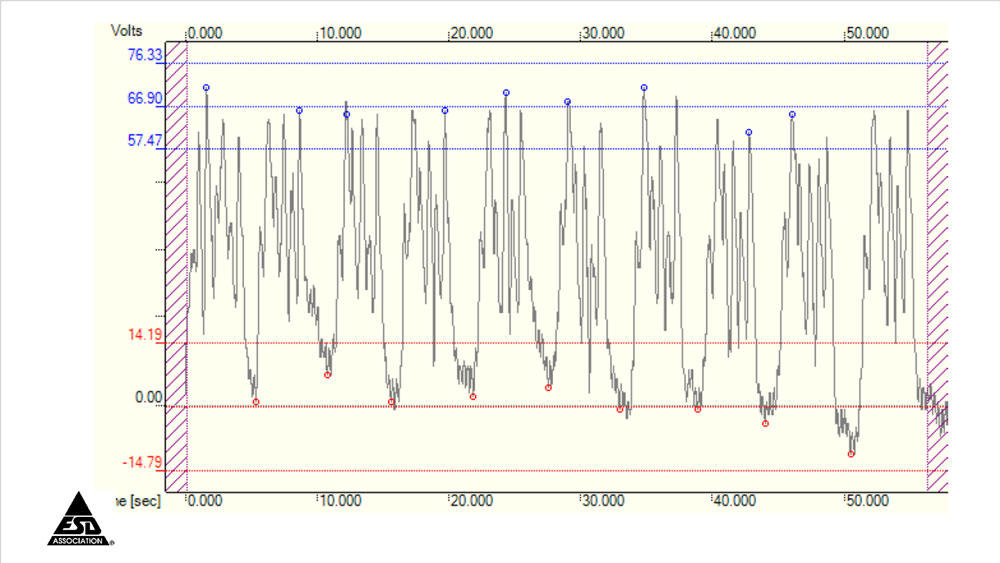 6.Please send any question concerning this presentation to [email protected].
https://www.wootc.com/wp-content/uploads/2019/02/walking-test-demonstration02.jpg
563
1000
wootc
http://www.wootc.com/wp-content/uploads/2018/10/logo.png
wootc
2019-02-07 09:51:10
2019-02-07 10:00:01
Footwear/Flooring System Walking Test Demonstration